Unlike most hosting providers today 1-Click houses its own servers and its own equipment. This allows us to have complete control over our network. We are not dependant upon any middle men. We have physical access to all equipment which enables us to mainatin a top notch network and trouble shoot issues in the fastest possible manner. Our facilities is located in the heart of Sillicon Valley. Our facility is connected via fiber the the Market Post Tower in Down Town San Jose which houses most if not all telecom companies and carrier hotels.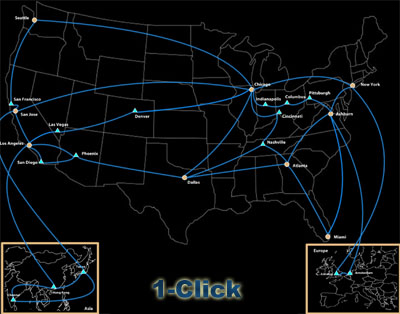 The 1click facilities offers the widest possible array of connectivity options for its tenants with high-bandwidth service available from almost every carrier in the Western U.S.

HVAC: Abundant cooling capacity is provided by 500 Ton redundant HVAC central plant, consisting of two-250 Ton Cooling Towers, Heat Exchanges and Water Pumps. The system is backed up with generator power.

Electrical: 6000 amps, 277/480 Volt, 3-phase, and 4-wire electrical service, provided by two 3000 amp main distribution switch boards and bus ducts.

Emergency Generators: The electrical systems are backed up by three 2000KW diesel generators. Each generator has diesel fuel tanks.
Premium Network:

We only use premium providers to ensure maximum reach and lowest network hops. Our goal is to establish a jitter-free, low latency, and varied route network to enhance your overall satisfaction.

Premium Bandwidth
HSRP Enabled
100% Fiber Network
Redundant Routers
Multiple 10GigE Uplinks
Secluded VLAN Architecture
99.999% Network Uptime SLA

Tier-1 Providers:

Level(3), Sprint, T-Systems, Global Crossing, Tiscali, BTN/PCCW, VERIO, XO Communications, SAVVIS, MCI/UUNET, Telia, LA-IIX Peering, Any2 Exchange Peering

Our network architecture utilizes the Enterprise routing and switching engines from Juniper, Foundry and Cisco. We utilize Cisco 6500 series switches in our distribution layer and aggregation layers, and Cisco 3500 and 2900 series switches at the customer layer. Our network is fully meshed and redundant with multiple providers.

Speedtest our network from your location:

Click Here for a Test Download (64 MB)